Photos
Photos from the campaign trail.
Sign Waving!

It was so much fun sign waving with friends, Charlotte, Andy, and Jing, these final days of the election.
• • •
Bremerton Ferry Campaigning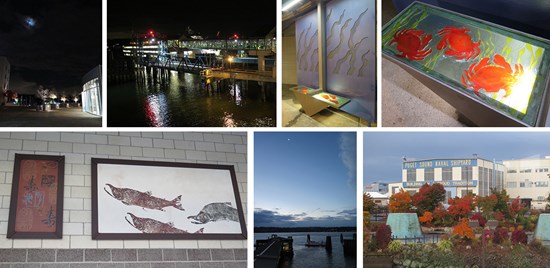 (Top L-R) View of the 4 a.m. morning moon, jewel-like view of the Bremerton ferry, excellent integrated bench public art
(Bottom L-R) Large public art works adorn the ferry walls, foot ferry to Port Orchard, glorious view of the spectacular color of the nearby park with the Puget Sound Naval Shipyard
On October 24, the final candidate forum hosted by the League of Women Voters and co-sponsored by the Kitsap Library, Kitsap Historical Society, and the NAACP was held at the Norm Dicks Government Center. Thank you to our hosts and co-sponsors, those that attended, and for the very educated and informed questions asked.
Following the forum, I planned to spend the night at the Hampton Inn adjacent to the Bremerton Ferry Terminal so that I could greet Bremerton ferry commuters on their way to Seattle the next morning. I have great respect for those that have to get up so early to meet that first 4:50 a.m. sailing. They were as kind as can be at 4 a.m. in the morning and as the sailings got later in the day, many commuters became more engaged. I would say, the same could be said of myself as the morning progressed, my bloodshot eyes became clearer, I became more awake and talkative! It was heartening to hear many had already voted for me and that I would also be receiving votes for taking the time to show up in person to meet and greet Bremerton ferry commuters.
Hansville Candidate Forum (and PIE!)

My favorite candidate forum to date would have to be the Hansville Candidate Forum. What was most wonderful was that many community members brought homemade pies! The Hansville Community Center was packed with standing room only. The questions asked were thoughtful and the audience members and candidates were respectful. Click here to read a Central Kitsap Reporter article about the forum.
The First Indigenous Peoples Day Celebrated at Bainbridge Island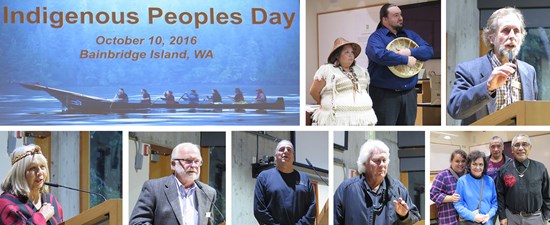 (Top L-R) Tina Jackson and Nigel Lawrence from the Suquamish Tribe, Bainbridge Island Council Member Ron Peltier initiated the Indigenous Peoples Day Resolution which was supported unanimously by Bainbridge Island City Council
(Bottom L-R) Gina Corpuz, Bainbridge Island Mayor Val Tollefson, Dennis Sutter (Spotted Horse) of the Suquamish Tribe, John Paul Jones, and the Rapada family
It was a beautiful moment to witness the first Indigenous Peoples Day celebrated at the Bainbridge Island City Hall. Gina Corpuz provided a slideshow titled, "Indigenous Women of Bainbridge Island."

Bainbridge Island

Mayor Val Tollefson read the proclamation of the Indigenous Peoples Day which was unanimously supported by the Bainbridge Island City Council. Several community members spoke as well.
• • •

(L-R) So many pumpkins to choose from at Suyematsu/Bentryn Family Farm, Ryan talks with farmer Karen Selvar, my grandson gets help carrying his pumpkin, my four-generations of family members continue our family tradition of picking pumpkins at Suyematsu/Bentryn Family Farm
A bit of a break from the campaign trail to do the annual family picking of pumpkins at the Suyematsu/Bentryn farm. My husband picked pumpkins here as a kid, we

also took

our children here yearly to pick pumpkins, and now we are joined by our grandson. Suyematsu/Bentryn Family Farm is located at 8897 NE Day Road on Bainbridge Island. In addition to pumpkins, there are all sorts of squash and vegetables to purchase. And for the kids, on the weekends there are hayrides and a corn maze.
• • •
Kingston Community's Open House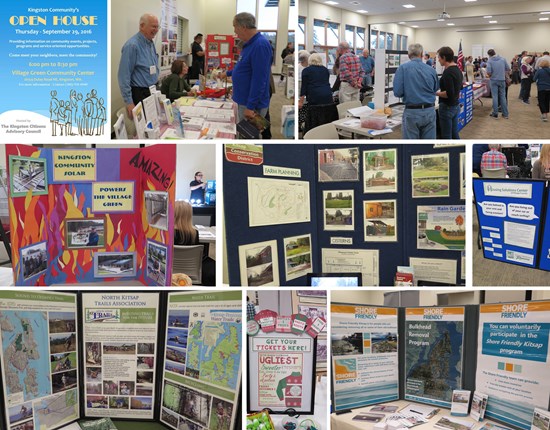 It was a delight to find out about all of the Kingston community events, projects, programs, and service-oriented opportunities at the Kingston Community Open House hosted in the amazing new Kingston Village Green Community Center. Click here for more information on the Village Green Community Center.
• • •
Water Reuse Summit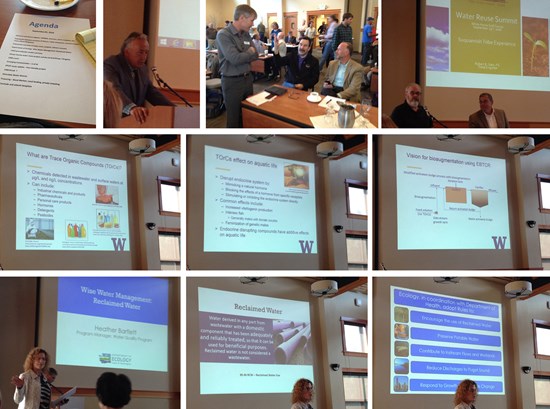 Top Row (L-R): Suguamish Tribe member Bardow Lewis; KPUD General Manager Bob Hunter, Suquamish Tribe Chairman Leonard Forsman, Kitsap County Commissioner Rob Gelder; Suquamish Tribal PE Engineer Robet Gatz, Silverdale Water Commissioner John R. Poppe
Bottom Row: Department of Ecology Water Quality Program Manager Heather Bartlett
On Friday, September 29, I attended the Water Reuse Summit at White Horse Conference Center hosted by the Suquamish Tribe. Topics included a presentation by the Department of Ecology on "Wise Water Management: Reclaimed Water", information about University of Washington studies of "Emerging Contaminates (pharmaceuticals)," an update on the KPUD Port Gamble Waster Water Treatment Plant, an overview of Kitsap County Reuse Water Projects, background about Silverdale Water District recycled water projects, and Financing for projects.
• • •

At the invitation of Senator Christine Rolfes I attended the Washington Wildlife Recreation Coalition (WWRC) 2016 Annual Breakfast held at the Westin in Seattle, Washington. Following the recognition of WWRC's board members and elected officials present, the WWRC director asked that all candidates running for an elected office to please stand, so I stood being a candidate for the KPUD Commissioner 1 along with several other candidates for various statewide elected races.
• • •
2016 Bainbridge Island Quilt Festival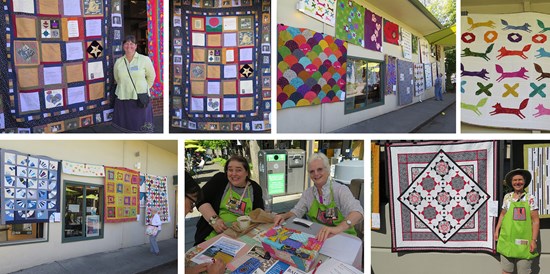 It was such a delight to include my quilt in the 4th Annual Bainbridge Island Quilt Festival. I made this "Coming of Age" quilt (upper left photo) to celebrate my daughter turning thirteen. Quilt squares and/or quotes were sent by various womenfolk family and friends of my daughter and I designed it into one comforting quilt. Those women have and will always be there to support my remarkable daughter. She was given the quilt at a surprise party held in her honor and each woman spoke to her about the quilt square they made, sharing words of wisdom as to becoming a teenager and young woman. Click here to view more quilts and here to learn about the Bainbridge Island Modern Quilt Guild.
• • •
Signs Posted Throughout Kitsap County
Following winning in the Primary Election, signs were placed throughout Kitsap County including Silverdale, Bremerton, Port Orchard, and Southworth. It is always a challenge to get up super-early but the first payoff was a gorgeous sunrise and it was hilarious to end my day having a small group of goats hollering at me. They sounded like little kids!
• • •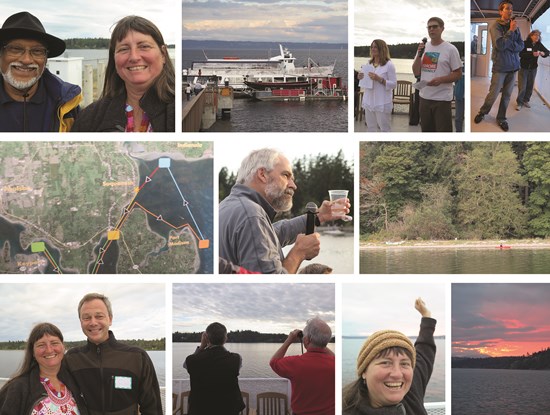 Top (L-R): Dr. Olaf Ribeiro and Debra Lester; Argosy Cruise Ship; Marian Berejikian from West Sound Watershed Council, Jeff Adams from Sea Grant, and a forage fish expert giving talks

Middle (L-R): Tour Cruise Map, shoreline expert explains the shoreline systems, Suquamish tribe shoreline
Bottom (L-R): Debra Lester and her husband Ryan Vancil, cruise attendees scoping out the shoreline, Debra Lester's response to the text telling her she'd won the primary, and the beautiful evening sunset
Instead of anxiously waiting by a computer screen on election night, my husband and I attended a free Kitsap Shoreline Restoration Tour hosted by Shore Friendly Kitsap, the Suguamish Tribe, Environmental Protection Agency, Sea Grant Washington, Futurewise, and Water Stewardship Program of the WSU Kitsap County Extension. Shore Friendly Kitsap is a new program to assist marine waterfront homeowners who are interested in a voluntarily removing all or part of their old bulkhead or replacing it with soft shore stabilization. For further information, visit
http://www.shorefriendlykitsap.com
.
• • •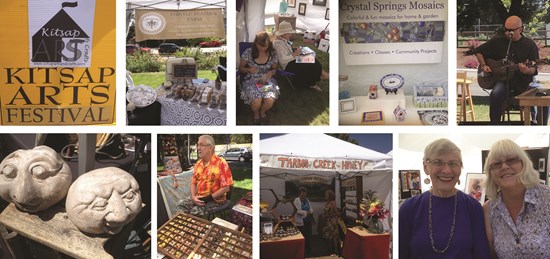 Also on Saturday, I visited the Kitsap Arts Festival held in Kingston. There I did my early holiday shopping, saw many great crafts, and met many talented artists and wonderful people.
• • •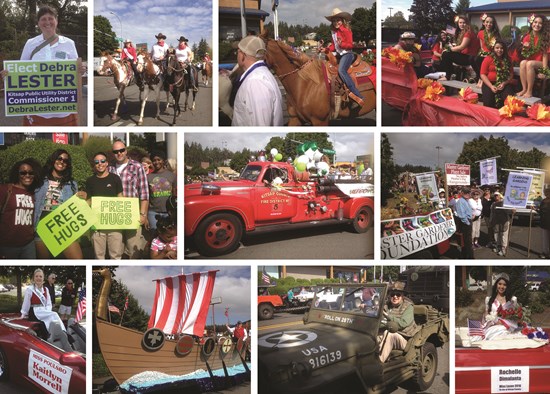 On Saturday, July 30, I marched in the Silverdale Whaling Days Parade. Click here to view a slideshow of the parade.
• • •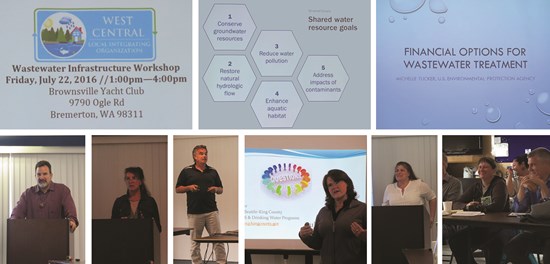 Pictured above (L-R): Leonard Forsman (Suguamish Tribe Chairman), Barbara Zaroff (Kitsap County Public Works Sewer Utility Capital Projects Engineer), Stuart Whitford (Water Pollution Identification & Correction Program of Kitsap Public Health District), Lynn Schneider (On-site Sewage System & Individual Well Programs Supervisor Public Health Seattle & King County), Michelle Tucker (Environmental Finance Coordinator U.S. Environmental Protection Agency), and Debra Lester (KPUD Commissioner 1 Candidate).
On Friday, I attended the West Central Local Integration Organization's Wastewater Infrastructure Workshop.
"The objective of this workshop is to investigate solutions that abate and prevent threats to environmental and public health by 'urban septic systems.' In essence, 'How can we most effectively clean our wastewater in dense areas, by marine shorelines, on poor soil, and with limited funding mechanisms?'"
For information about West Central Local Integration Organization, please click here.
• • •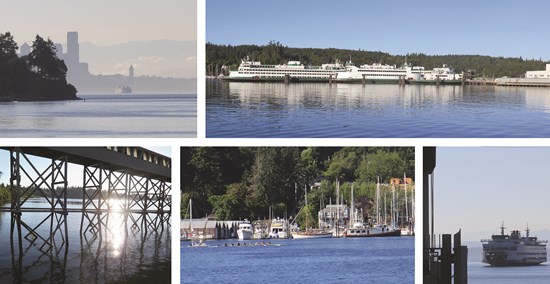 Another stellar morning handing out campaign postcards at the Bainbridge Island Ferry Terminal. I've been blessed to meet Scarlet and Jason — both have worked years in utilities and treatment plants. Looking forward to getting together and hearing their professional opinions about new technologies and best practices in wastewater treatment.
Thank you to everyone that took the time to stop, take a postcard, and research this KPUD Commissioner race.
• • •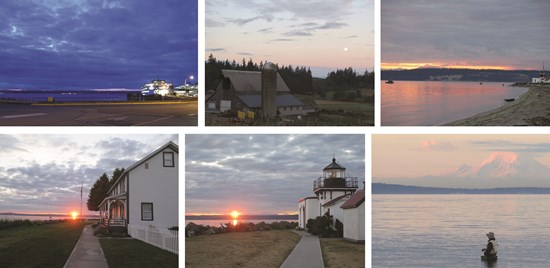 After greeting the 4:55 a.m. Kingston ferry commuters, I drove around and marveled at the beauty that is Kitsap County. Seeing the full moon over farmland, the sunrise at Point No Point in Hansville, and Mt. Rainier in its morning glory, made getting up so early worth it. Only downside, the chinook are in and I didn't have my pole! For Point No Point fish reports, go online to Salmon University and look up Marine area 9. My breaks from the campaign trail will definitely be out at Point No Point fishing.
• • •

Thank you to friends Pat (not pictured), Jing, and Susan for joining me greeting early morning Bainbridge Island ferry commuters.
• • •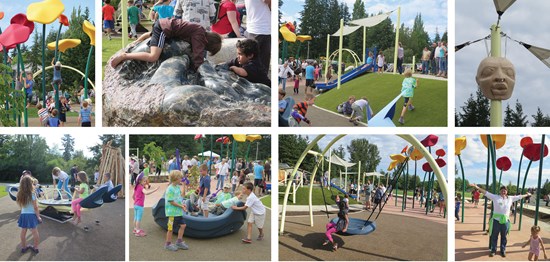 On July 16, Bainbridge Island Metropolitan Parks & Recreation hosted the opening celebration of Owen's Playground - a play space for all kids to shine! This inclusionary playground provides play structures and areas for all children to play regardless of age or ability. Click here for more information about Owen's Playground.
• • •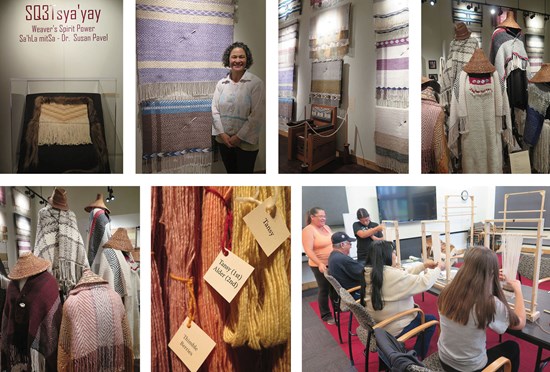 On July 16, the Suquamish Museum Family Day featured Squaxin Island Tribal member, Andrea Wilbur-Sigo, teaching a hands-on weaving learning opportunity. Currently on view is an exhibit of weavings by Dr. Susan Pavel. Click here for more information about the Suquamish Museum.
• • •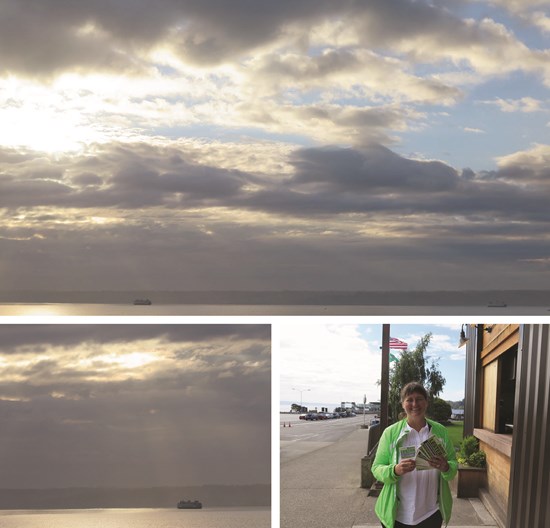 Getting up at 4 a.m. was pretty challenging, but the payoff of seeing the sunrise, meeting Kingston ferry commuters, and getting coffee at Aviator Coffee made it well worth getting out of bed.
• • •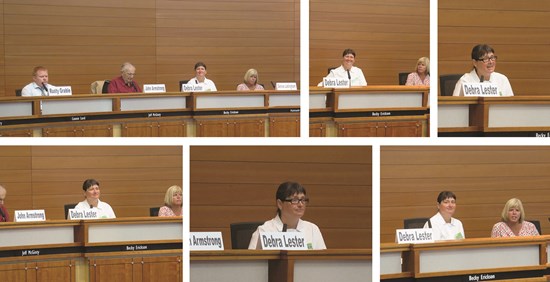 Thank you to League of Women Voters of Kitsap for organizing the July 14th Candidates Forum, to Mayor Erickson and the City of Poulsbo for hosting the event, to all the candidates participating, and to the audience members for their great questions!
Click here to read the article about the debate published in the North Kitsap Herald.
• • •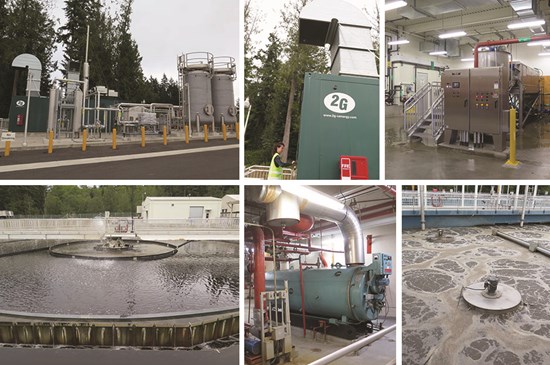 On Monday, July 11, I visited the Central Kitsap Treatment Plant to learn more about wastewater treatment. I was most excited to see the Methane Gas Cogenerator. Methane gas was previously burned off. The new system shown in the upper left photo, now uses the methane gas to produce electricity and heat for digesters. The engine-generator generates electricity to either be used throughout the plant or supplied to the local electrical power grid. Great new technology.
• • •

My husband, grandson, daughter, and my daughter's partner joined me in the Bainbridge Island July 4th Parade.
• • •

At the Kingston Parade I had the chance to see many new people.
My Indianola friends with their yellow submarine float performed "All You Need is Love."