Issues
Water as Resource NOT a Waste Stream
The Kitsap County Board of Commissioners recognizes water is a valuable resource and should not be wasted. Kitsap County adopted Resolution 109-2009, a policy that applies to all departments within the Board's jurisdiction to treat water as a resource and not as a waste stream. (kitsapgov.com)
Click on Former Kitsap County Commissioner Steve Bauer's image below to view a video of Bauer's presentation on "Water as a Resource."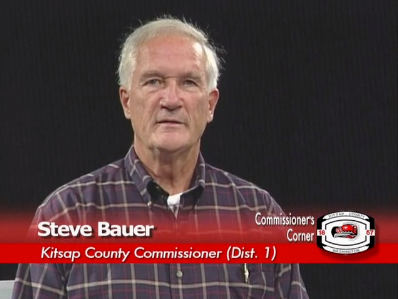 • • •
Methane Gas Cogeneration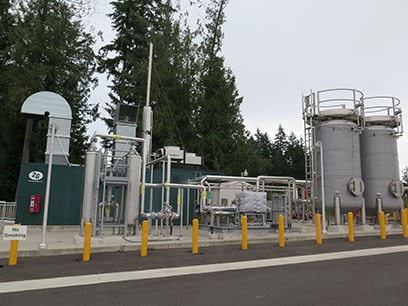 One of the most exciting things I saw on my July 11th tour of the Central Kitsap Treatment plant was the Methane Gas Cogeneration facility. Before I took the tour I had previewed a video online about the Central Kitsap Treatment Plant and was concerned by seeing in the video methane gas being burned off. Methane gas is a byproduct of the waste treatment process. What a great and inspiring surprise during the tour to see that the video was actually out of date as now there is a fantastic new system, the Methane Gas Cogeneration Plant (pictured above), that has been recently built. This engine-generator creates a contained burn of the methane that produces electricity and uses the remaining heat for the digesters. The electricity generated is either used throughout the plant or supplied to the local electrical grid. Click here for more information about this project that was completed in October 2015.
This is one example of a new technology that Kitsap Public Utility District could incorporate into its future waste treatment plants.
• • •
Water Reclamation
In Kitsap County, currently 3.2 billon gallons of treated water are released into Puget Sound. This is water that could and should be further treated and used to recharge our aquifers, improve stream flow, and be reused for irrigation, fire flow, and flushing. Treatment plants could be built or upgraded to reuse this valuable resource instead of discharging into the Sound. As well we would need to begin installing reclaim water pipes, called "purple pipes." In order to keep reclaimed water pipes distinct from potable water lines, reclaimed water pipelines are colored purple, the universal symbol of recycled water.
Kitsap County has wisely begun planning for the future having seen potential challenges of municipal water rights and the many benefits of reusing this important reclaimed water resource. Kitsap County has begun laying purple pipes throughout Silverdale. And currently Central Kitsap Treatment has installed a purple pipe connection to Silverdale.
Kitsap Public Utility District, now that it has been given authority for waste water treatment, should consider installing purple pipe throughout its systems as well.
• • •
Water Pipe Turbines
As there is a demand for reliable, cleaner, renewable, and lower cost energy, recently a new hydropower system using gravity feed turbines in water pipes has been created by LucidEnergy. It captures energy that would otherwise be lost and turns it into electricity.
This is a perfect technology for water systems and would be a technology Kitsap Public Utility District should consider incorporating into its systems.
Combine the hydropower with new battery technology and KPUD would have the ability to power its facilities as well as have backup energy for power outages and potential natural disasters.
Here is video from PBS Newshour and several articles about this new technology:
PBS Newshour
How drinking water pipes can also deliver electric power
http://www.pbs.org/newshour/bb/drinking-water-pipes-can-also-deliver-electric-power/
Popular Science
Harnessing Hydropower from Urban Water Pipes
http://www.popsci.com/gregg-semler-turns-tiny-turbines-mighty-generators
Climate Progress
It's Not A Pipe Dream: Clean Energy From Water Pipes Comes To Portland
http://thinkprogress.org/climate/2015/08/13/3661575/portland-water-pipes-energy/
LucidEnergy
• • •