Welcome!
My name is Debra Lester and it has been an honor to represent you as your Kitsap Public Utility District (PUD) Commissioner.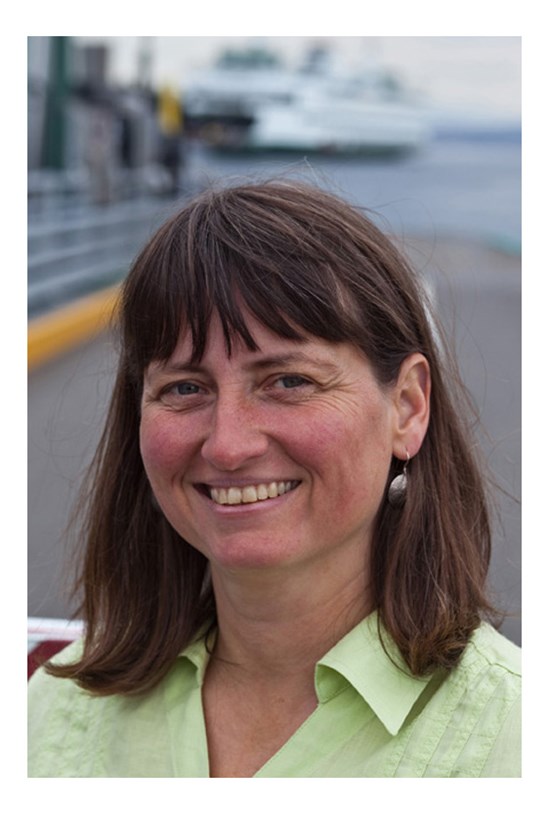 I am running for re-election as your Kitsap PUD Commissioner because I care deeply about our Kitsap community and although much has been accomplished at Kitsap PUD this past six years, more is yet to be done.

My focus has been to build stronger Kitsap community alliances to insure safe drinking water, to carefully plan and manage our precious water resources, to treat wastewater so as to retain more water in our freshwater systems, and to extend broadband service.
Our Kitsap community becomes more resilient when our cities, tribes, public utility districts, and county work with each other. By working together we create greater financial efficiencies for utility customers.
I bring to this role years of experience as business owner, non-profit board member, community organizer, and as an elected official.
My ability to advocate and collaborate gets results:
In 2021, the State Legislator passed House Bill 1336 authorizing certain public entities (public utility districts, port districts, towns, second-class cities and counties) to provide retail broadband service in addition to wholesale service. This new authority allows Kitsap PUD the opportunity to apply for federal broadband grant funding. Recently (2021-2022) Kitsap PUD has received over $11 million dollars in broadband funding.

As a city council woman, I promoted the development of a comparison study of our city's water utility to that of KPUD. Finding our city water rates to be considerably higher, we reduced the rates by a total of 65%.
As a member of the Kitsap Regional Coordinating Council, I participated in the development of a unified priority list of Kitsap transportation projects. Then I advocated and defended the transportation projects at the Puget Sound Regional Council for funding by the State, which resulted in millions of dollars of transportation funding for Kitsap County.
As co-founder of the Puget Sound Ferry Community Partnership, I was instrumental in the formation of a group to create a unified voice for ferry-served communities. We successfully lobbied to freeze fares for 3 years, kept multi-ride cards from being cut, and got new ferries built.Whether responding to your concerns, attending meetings, or testifying at the State Capitol, I will do whatever is necessary to ensure that Kitsap PUD customers have affordable and reliable utility services.
I support and will continue to encourage Kitsap PUD's disaster preparedness efforts. Having a disaster plan, running disaster drills, and readying mobile/back up generators are key to providing continual service when hit by a natural disaster.
I promise to use my experiences and advocacy abilities to get results for you, and ask for your vote.
Previous Endorsements
Newspaper:
Bainbridge Review
"In Our Opinion," Friday, November 4, 2016
"Lester brings a fresh perspective. She will bring new ideas to the management of our water resources, to ensure we are able to meet the needs of a growing Kitsap."
Elected Officials:
Poulsbo Mayor Becky Erickson
Bainbridge Island Mayor Val Tollefson
Former Bainbridge Island Mayor Dwight Sutton
Leonard Forsman of the Suquamish Tribe
Organizations:
National Women's Political Caucus of Washington
(Click on the above link and search "Debra Lester")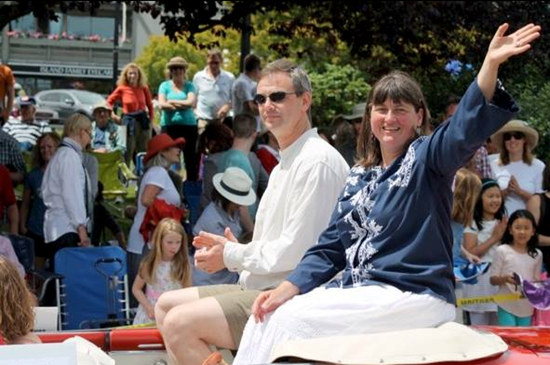 Debra Lester, 2013 Citizen of the Year & 2014 Grand Marshall of the Bainbridge July 4th Parade. Photo by Sarah Lane.
Awards:
I was honored to be nominated and received the 2013 Citizen of the Year Award from the Bainbridge Island Chamber of Commerce. And also in 2013, my community voted me "Best Public Servant" by the Bainbridge Review readership.
Elected Experience:
Kitsap Public Utility District Commissioner (2017-2022), Washington Public Utility District Education Committee Co-Chair (2019-2022), Bainbridge Island City Council Member (2010-2013), Bainbridge Island Mayor (2012), Housing Kitsap Board Member (2010-2013), Kitsap Regional Coordinating Council (KRCC), KRCC Transportation Advisory Committee, and Puget Sound Regional Coordinating Council Transportation Committee
Community Service:
My community experience includes coordinating lobbying efforts in Olympia for Puget Sound ferry-served communities to keep ferry fares fair and service dependable, publishing arts/business information, promoting renewable energy and conservation, encouraging public art, and creating community gardens. My service has included co-founding Ferry Community Partnership, being a board member of Community Energy Solutions, and serving 9 years on the Bainbridge Island Public Art Committee.